Ok then, the next step was to chop the seat post and re weld so the seat would sit level and further back with the part of the post that the seat was clamped to would sit hidden up above the seat rails.
So it was out with my old protractor from my school pencil case which hasn't seen the light of day in years, and a small spirit level. With the protractor against the seat tube and the spirit level on the flat bottom of the protractor, I tilted the protractor until the spirit level was level and then read the angle off the protractor.
This was my angle to chop the seat post at, to make sure I got it right, I cut the angle onto a short length of 2x3 then clamped the seat post to the length of wood and used the angled end as a guide to rest my hacksaw blade against as I was sawing it. No pics of this I'm afraid I just dived straight in and did it all.
Once cut, I welded the post back together to make an extreme lay back post of sorts and create the look I want (It did take a fair while to clean up the weld to get the join looking neat)
Add a really nice old battered Brooks B17 saddle and we're starting to get there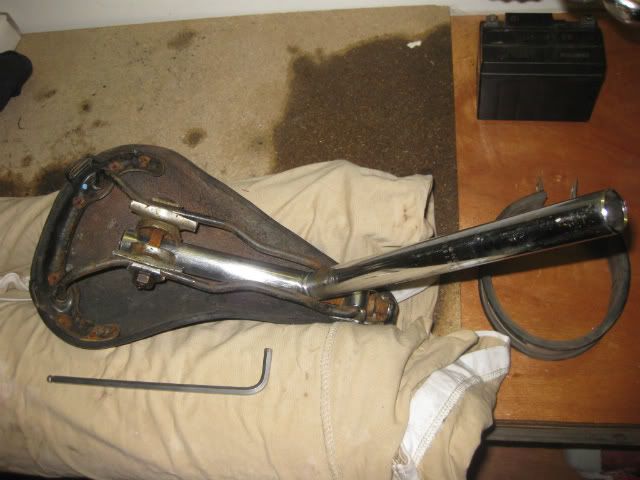 Then move the front mudguard to the rear
The next move was to ditch the apes and fit the bars that I'd sorted out, need to take some pics of them so more on that next post.